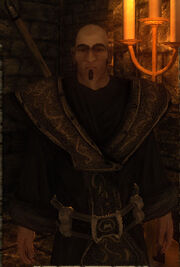 Description
Edit
Cyrus is a Master of the Order.
He is a goldsmith/trader and will sell runes and scrolls. During the Cyrus is late quest he will help you find Eldric in the ruin. He will give three scrolls of Destroy Magic Force Field.
Merchandise
Edit
Location
Edit
He can originally be found at the monastery in the goldsmith building south-east of the Hall of the Holy Flame (I).
He should be in the hall of Holy Flame during the Initiation.
However, when you start the Cyrus is late quest he can be found at Eldric the Druid's hut (II).
After the quest he will stay in the ruins before going back to the goldsmith building at the monastery.
Then he will stay in his building after opening the gate (III).
But after Ignatius told you to call the Mages to the Holy Flame, he will go back to the Hall of Holy Flame.
Then he will stay there and join the rite of becoming a Master of Magic (IV).
He will stay there for the rest of the game.
Related Quests
Edit