We're Getting Mutants in the MCU - The Loop
Play Sound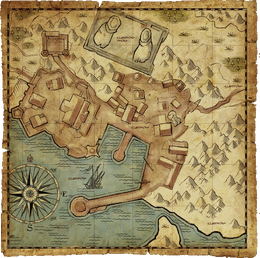 Harbour Town is the only town on the island of Faranga. The main gate is on the western side and the rear gate is on the north-eastern town wall. You can get into the town through the rear gate by speaking to the guard there and bribing him with 100 gold coins, you can also trade items with him. Once you get inside you will not be able to leave until you have done certain quests for either the Order or for the Don.
Note: Actually it is quite possible to 'simply' jump over the town's outer walls, at the rear gate this is safer.
The town is split into three sections: the Gutters, the Harbour and the Merchant's district. The Gutters is a place for the refugees and other citizens, it is in the eastern part of Harbour Town. The Harbour is the dock area of the town, in the southern part. The Merchant's district is a place to buy equipment and other items, it is in the western part of the town.
Your faction-based decisions in Harbour Town are central to defining your characters path in the game. You have to either support the Order or the Don. This will give you alternative routes out of the city. Aiding the Don's men will result in you gaining access to a secret exit which leads onto a beach near the front gate, whereas assisting the Commandant Carlos will allow you to simply leave via the two gates.
Characters
[
]
Name

Quest NPC

Trainer

Merchant

Quest / Skill / Item
Alvaro
X

Anika

Arno

Baxter
X
Quests:
Belschwur
X
Quests:

Other:

Peforming Belschwur's Medicine for everyone quest opens up the ability to become a mage and eventually get a pass to enter and exit Harbour Town freely.
Master Belschwur also gives the teleport stone for Harbour Town.

Carasco
X

Quest:

Find the three golden bowls (M/B)

Get rid of Lukor

Carlos
X
Skill(s):
Cid
X
X
Quest(s):

What is Rodriquez planning? (M/B)

Skill(s):

Cole
X
Skill(s):

Costa

X

Quest:

Cutter
Skills:

Dargel

X

Delgado

X
X
Quest(s):

Skill(s):

Dirk
X

Quest(s): Harbour Town:

Find the three golden bowls
The gathering of triplets

Eastern Temple:

Find the exit of the Eastern Temple

Doyle
X

Quest: Find the Burgular's spy!

Duram
X
Dytar
X
Edgar
X
Skill(s):
Elias
X

Erikson

X

Felipe

X
Skill(s):

Finn

Flavio
X
X

Fuller

Garth

X
X
Skill(s):
Gwen
X

Quest:

Hernandez

X

Quest:

Hugh

Ingvar

X
Jack
X
X

Quest:

Josh

Quest:
Kayleigh
Konrad
Leonardo
X
X
Skill(s):
Lilly
Lukor

Marcelo

Marek

Martha

Mo

Nelson
X
Quests:
Nico
Olf
X
X
Skill(s):

Olga

Patty
X
X
Quest(s):

Skill(s):

Pavel

Philus

Rodriguez

Romanov

Sebastian

Sergio

Sonya
Tilda
Toni
Ukkos
X
Skill(s):
Vasili
Walter
X
X
Quest(s):

Skill(s):

Weasel
Lockpicking Codes
[
]
Chest at the end of the centre pier = LRLRLLRR